Maker: Charles Willson Peale (1741-1827), American
Medium: Oil on Canvas
PW59 Donated by Mrs. Francis White in 1973
In the entry passage Hester Baldwin Chase stares down imperiously, commanding the viewer's attention with her striking expressive eyes. Hester was one of the four Baldwin sisters descended from the earliest English settlers in Anne Arundel County, who though not born into great wealth, made up for it in beauty. Their father, Thomas Baldwin of "Darnall's Grove", was a planter and proprietor of a popular inn/ordinary on the Old State Road between Baltimore, Annapolis, Bladensburg and Washington (now Defense Highway in Bowie).
The strategic location of the tavern attracted important travelers, including future signer of the Declaration of Independence Samuel Chase, who married Hester's older sister Anne "Nancy" in 1762. This marriage was seen as a love match as it did not enhance either's position or fortune. It is likely that Hester met Samuel's young cousin, aspiring lawyer Jeremiah Townley Chase, at this time. Jeremiah had been raised with Samuel like a brother. Hester and Jeremiah kept in touch for the next two decades and became closer after the untimely death of Hester's sister Nancy around 1776. In June of 1779 during the American Revolution, they finally decided to wed in their early 30's. Their affection is evident from letters in which they used the nicknames "Hessy" and "Jerry".
When Annapolis-raised artist Charles Willson Peale, a good friend of the couple, painted Hessy in the spring of 1789, fortune had smiled upon the pair. Jerry was a general court Judge and a former Mayor of Annapolis and State Delegate. The couple had an estate on King George Street in Annapolis and country estate outside the city. Their children included Frances b. 1780, Matilda b. 1782, Richard b. 1784, Catherine b. 1786. Jeremiah b. 1789, and Hester Ann b. 1791. In 1811 Jeremiah bought the Hammond-Harwood House down the street from their house for their eldest daughter, Frances, her husband Richard Loockerman, and their children to live in. Hester was the namesake for her daughter, two granddaughters, and great-granddaughter Hester Ann Harwood, the last private owner of the Hammond-Harwood House.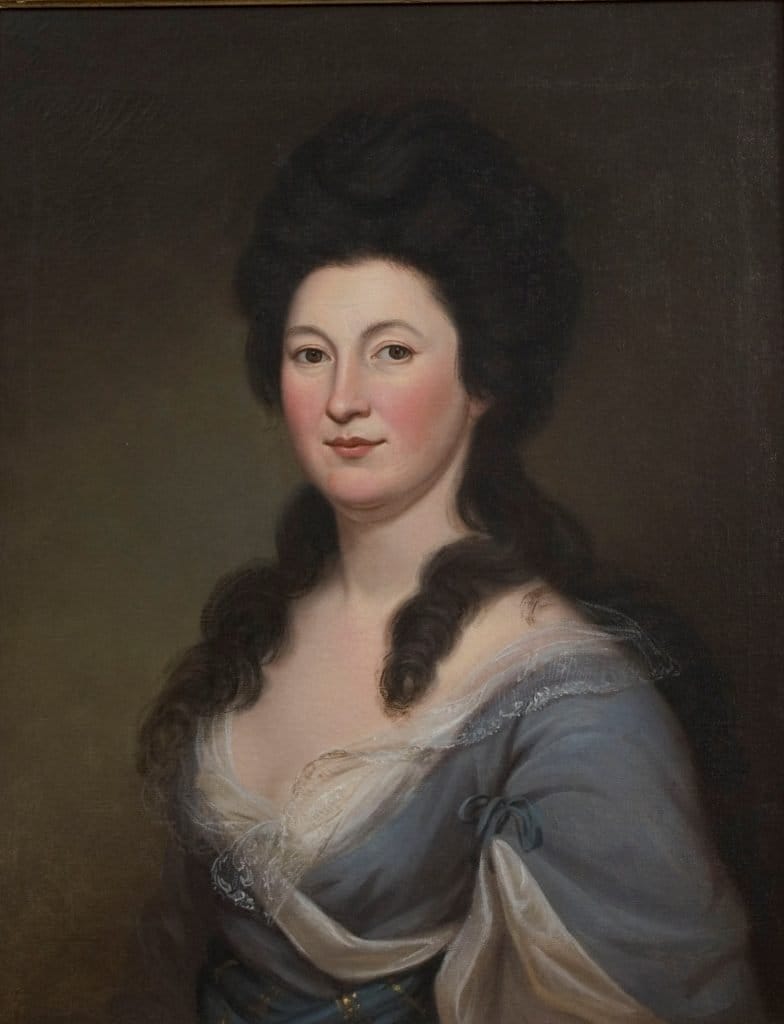 By Rachel Lovett, Curator