Linen Press, Annapolis Maryland, c.1795
Maker: Label affixed to right interior door, John Shaw (1745-1829), American
Medium: Mahogany, mahogany veneer, secondary woods tulip poplar and yellow pine
F55 Donated by Mrs. Dorothy Blake Frick Jenkins in 1952
Have you ever gone into a historic house and wondered where all the closets are? The Hammond-Harwood House, considered a mansion, can boast only one closet. So, how in the world could a family like the Loockermans, who had several children, fit everything into one closet? The early morning dressing activities must have been a nightmare–well not quite. Having just one or two closets was not unusual, even for a home as large as Hammond-Harwood House, and no there was no dreaded closet tax.
The closets in all early American homes were generally quite small and narrow, near fireplaces or in bedrooms, and were meant for general storage, not clothing. The answer to the lack of closet space was the linen press, which likely derived from the earlier European- designed clothes or linen press. These domestic devices worked like any kind of press– the cloth, a tablecloth, for example, was placed in between two boards, which were tightened down with a screw mechanism. This  "ironed" the pieces. The model of the linen press went as far back as Ancient Rome. By the time Scottish-born John Shaw (1745-1829), regarded as Annapolis' premier 18th century cabinet maker, made this linen press this was the typical form for storing clothes.
This elegant yet simple linen press shows the convergence of fine form and function. It is one of several pieces in the museum's collection that still contains a paper label from cabinetmaker John Shaw. The piece itself is a two-part construction with four graduated drawers below mounted on bracket feet and five shelves inside the upper section. Although mainly devoid of elaborate detail, this linen press does contain delicate dentil molding at the top and small acorn drops found at the two corners. The use of an acorn, though not unusual, is especially appropriate for Shaw, as he was for many years caretaker and furniture maker for the Maryland State House, which has a Franklin lighting rod with an acorn. The acorn symbolizes strength and stability, and the original state house acorn lasted for two-hundred and eight years (1788-1996)– not a bad run.
The 
linen
press
 was donated in 1952 by Baltimore art collector and socialite Mrs. Dorothy Blake Frick Jenkins. An avid supporter of the Hammond-Harwood House, she also donated a card table and two sets of armchairs. Described as a very elegant woman, she was fondly called royal pet names like Duchess by her grandchildren and Princess by her good friend Marvin Ross. 
Ross, a Monuments Man
 and Curator at the Walters Art Museum in Baltimore, was on the Board of Trustees at Hammond Harwood House. He helped establish the museum's fine collection of John Shaw furniture.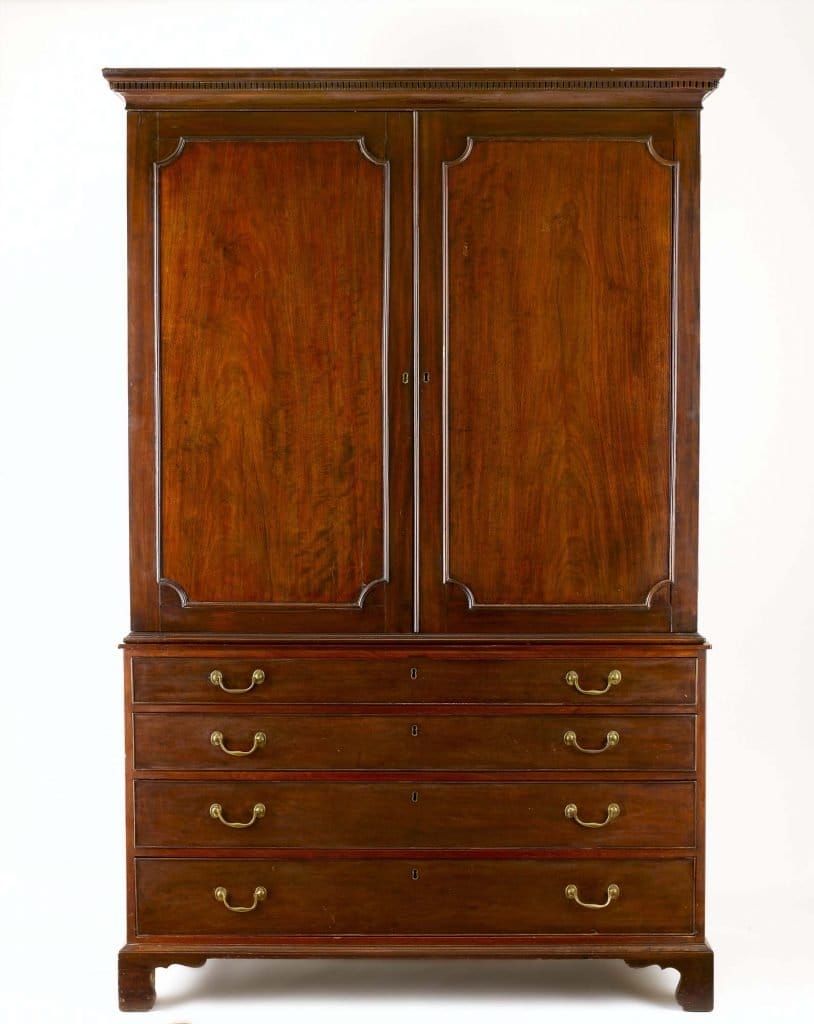 By Rachel Lovett, Curator